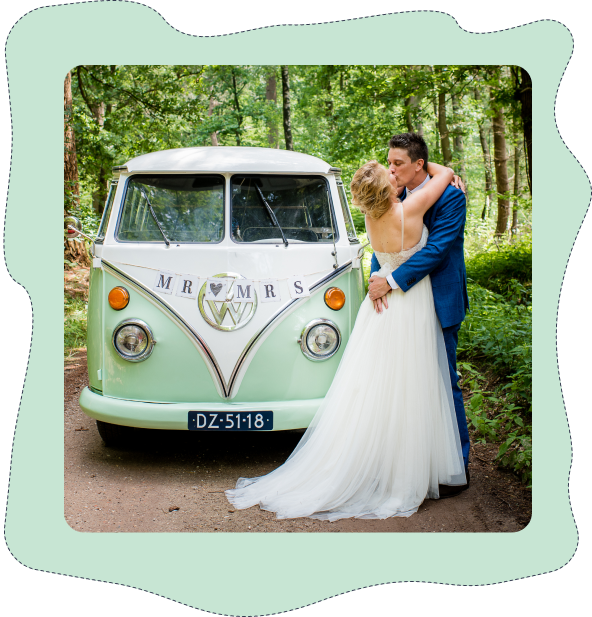 YES!
Éen van onze voornaamste activiteiten is het verzorgen van huwelijksfeesten. Altijd fantastisch als wij mogen bijdragen aan deze bijzondere dag. Voor je 'werk' de liefde vieren is geen straf kunnen wij u vertellen en daarom doen wij dit zo graag. Dat wij houden van een bohemian stijl verraadt onze prachtige Foodtruck natuurlijk al. Maar ook op het gebied van decoratie helpen wij u graag. Wij hebben in de loop der jaren velen vintage, industriële en bohemian pareltjes verzamelt.

Het trouwfeest kan op vele verschillende manieren worden gevierd. Denk aan klassieke lange tafels om lang aan te tafelen genietende van een uitgeserveerd diner. Dit diner kan naar uw wens worden ingevuld, wij zitten natuurlijk vol ideeën en hebben ook standaard menu's.

Maar ook een bruiloft in Festival of Barn stijl zijn favorieten. Foodtruck of een walking diner, alles is mogelijk. Wij hebben in de afgelopen jaren al velen bruidsparen mogen ondersteunen in het plannen, kiezen en uitvoeren van alle verschillende onderdelen die deze dag tot het perfecte geheel maken.

Ook hebben wij  verschillende locaties tot onze beschikking zoals een stoer Fort, het Amstel Boat House, ZaaiKweekenEet; een hip voormalig restaurant onder de rook van Amsterdam of bijvoorbeeld buiten in het Amsterdamse Bos.

Niet alleen voor een Foodtruck, eten/drinken en decoratie kunt u bij ons terecht. Zelfs voor uw bloemen, give-aways, foto/videograaf, photobooth etc. kunt u bij ons terecht. Als wij het zelf niet doen, brengen wij u in contact met de betrouwbaarste en beste leveranciers in het vak.

Wij helpen u graag uw evenementen te laten slagen